Version: 8.1.0
Build Date: 2023.0425
Released: 3rd May 2023
Requirements:
Windows: 10, 11
Mac OS: 11.4 (Big Sur) or later
Linux: Centos 7.9 and compatible distributions
Plug-in Connection Requirements:
3ds Max - 2021, 2022, 2023 - Plug-in build 2023.0208 (updated) Release Notes
3ds Max - 2024 - Plug-in build 2023.0504 Release Notes
Blender - 2.83 and higher - Plug-in build 2023.0329 (updated) Release Notes
Cinema 4D - 25, 26, 2023, - Plug-in build 2023.0329 (updated) Release Notes
DeltaGen - 2019x and higher, Stage 2019x and higher - Plug-in build 2023.0327 (updated) Release Notes
Houdini - 18.5, 19.0, 19.5 (with Python 2.7, 3.7 & 3.9) (Apple Silicon on MacOS not supported) - Plug-in build 2023.0330 (updated - single installer) Release Notes
Maya - 2022, 2023, 2024 - Plug-in build 2023.0329 (updated - single installer) Release Notes
MODO - 14, 15, 16 (Windows and OSX) - Plug-in build 2023.0330 (updated) Release Notes
LightWave 3D - 2018, 2019, 2020 - Plug-in build 2022.0513
Rhino 5 (Windows only) - Plug-in build 2018.0206
Rhino 6 and 7 (Windows only) - Plug-in build 2023.0417 (updated) Release Notes
Octane Standalone: 2021.1 (Windows only) , Plug-in build 2023.0203 (updated) Release Notes
Octane Standalone: 2022.1, 2022.1.1 (Windows only) , Plug-in build 2023.0505 (updated) Release Notes
NVIDIA Omniverse™ - Create 2021.3.2 (now called USD Composer) and higher (Windows only) - Plug-in build 2023.0217 (updated) Release Notes
VRED - 2020.1 and higher (Windows only) - No additional plug-in installation required
Maxwell Studio - 5 (Windows only) - No additional plug-in installation required
SOLIDWORKS Visualize - 2017 and higher (Windows) - No additional plug-in installation required
Patchwork 3D 2023 - Windows - No additional plug-in installation required
See more details about compatibility and plug-in features here in the Compatibility Chart

What's New in HDR Light Studio 8 - Drop 1?
Product naming
We are now naming HDR Light Studio by the release numbers again - not nick names like Carbon, Tungsten, and Xenon. The product name was getting too long and a bit confusing for new customers.
This is HDR Light Studio version 8, drop 1 - so it's called 8.1.0

User Interface Enhancements
LightPaint Expanded
More lighting control directly inside the Render Views and Canvas
The user interface in the Render Views and Canvas have been improved to allow mouse input to control key lighting settings like - scale, rotation, brightness, and more. Keyboard shortcuts keys can be used to switch the mode. This means you can do more directly inside the views without needing to use sliders in the Light Properties panel. This provides a far faster workflow.
Read more.
Watch the training video
Light Properties split into 2 tabs - Settings & Appearance
There are a lot of settings in the Light Properties panel. Users were spending too much time scrolling up and down a long list of settings. We fixed this by splitting the properties into 2 tabbed sections. Read more

New Light Content Types
Scrim Light
The Scrim Light mimics how a photographer would light in the studio (see image below) when shining a light source at the back of a sheet of material. The Scrim Light in HDR Light Studio produces a very realistic light that is easy to adjust in a physical way. Most of the settings for this light can be controlled by dragging in 2D views of the light setup. This is far faster and more intuitive than using lots of sliders. The Scrim Light is the most advanced and controllable procedural light available in HDR Light Studio - and can produces a huge range of realistic lighting effects.
Read more
Watch the training video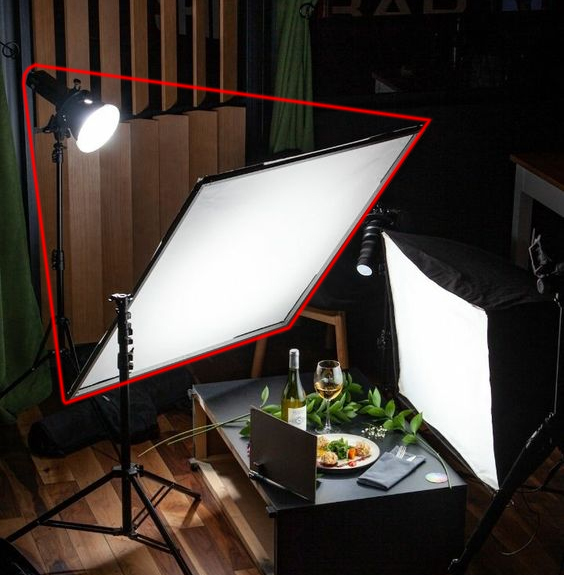 This perfectly shows the concept behind the Indirect Light. See the spot light placed behind the sheet of material (outlined red)
Polygon Content
The Polygon content is very useful for controlling the shape of lights when used on Alpha Multiply to control the Alpha of the light.
Read more.
Watch the training video
Additional New Features
Copy and Paste Lights
You can now copy and paste selected lights, within in the same Look, into other Looks and between Projects. Pasted lights are added to the top of the current Light List.
Read more.
Reverse Ramp button
A new button has been added to the ramp editing panel that will horizontally flip the ramp.
Read more.
CTRL + Drag/Drop Presets, forces Area Light creation
When making a new light from a Preset with 3D mapping - holding the CTRL key will force the creation of an Area Light.
Improved handling of Preset texture files
When opening a HDR Light Studio project file created on a different computer, HDR Light Studio will now automatically try to locate preset textures files in your own Presets installation. This will avoid the user needing to manually fix missing file links when moving HDR Light Studio projects between computers.
Plug-in Updates
Most plug-ins have been updated with performance enhancements and API changes. So please update to the latest plug-in for your 3D software.
Maya
Support has been added for Maya 2024
Support has been added for Area Light spread control from HDR Light Studio for: Arnold, Redshift, RenderMan, V-Ray

DeltaGen
Support has been added for DeltaGen 2023 (and the x-builds).

Patchwork 3D
Patchwork 3D 2023 has been updated to stream it's render into the HDR Light Studio 8 interface for LightPainting.
For further information please refer to the release notes for your connection here:
3ds Max, Blender, Cinema 4D, DeltaGen, Houdini, Maya, MODO, Octane Render Standalone, Omniverse, Rhino 3D
HDR Light Studio - Bug Fixes
•Motion blur got broken a few releases ago by a code change in another area of HDR Light Studio. Motion blur now works correctly.
•We now support on/off/solo/pickable from edit menu in the undo stack.
•Canvas would not update when nudging lights via keyboard shortcuts - this is fixed.
•HDR Light Studio should now start up faster. It has been optimized.
•Additive Blend on Value channel was incorrectly setting the alpha on production renders - this is fixed.
•Correct OCIO handling when OCIO env var/application settings are used. Fallback to default also works correctly now too.