The License Management dialog reports what licenses HDR Light Studio can see.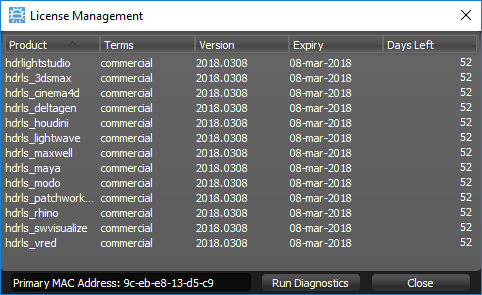 Product - Name of the product the license will run.
Terms - The commercial terms of the license (i.e. Commercial or Educational)
Version - This date (YYYY.MMDD) represents the latest build version this license will run, it is also the expiry date for your maintenance.
Expiry - If the license is a subscription license (not permanent), this shows the expiry date of the license. After this date the product will no longer run.
Days Left - How many days until the license expires.
Press the Run Diagnostics button to generate a text file containing RLM License Diagnostics. You may be asked for this file when working with support on licensing problems.